NOTICE:

Top of The Mill Retreat Center will permanently close on July 18, 2022.
No new reservations are available after that date.
Top of The Mill FAQs
Yes. You do not need to have 12 people, but there is an 8 person minimum charge even if you don't have 8 people.
Sheets and kitchen towels are provided. Guest should bring their own pillows, blanket and bath towels (this is a policy change in an effort to manage COVID-19 precautions – thank you for understanding).
Weekend Retreats: Friday 8am – Sunday 4pm
Additional Thurs Night Arrival: After Noon
Additional Sunday Night-Monday Departure: Before Noon
Weekday Retreats: Depends on days of the week and existing schedule. Ask your retreat coordinator about agreed upon times.
There is a fully-equipped kitchen available to make all your own food for the weekend. Cy's Bar & Grill on the main floor also provides dine-in and take-out menu. Check out area restaurant options under the Around Town tab of our website too.
Dishes, glassware, mugs, flatware, pots, pans, coffee machine/filters, etc. are provided.
Paper plates, napkins, plastic ware, and coffee are not.
There is no filtered water or ice machine.
The faucet water is city water that you can drink if you want.
There is also a chilled water fountain in the hallway.
Ice is not provided, but 10lb bags can be purchased from the bar at $2.50/bag.
A wheeled utility cart holding up to 500 lbs is available to haul supplies and luggage up through the elevator directly to the main project room on the third floor. There is access to the cart via the west entrance or the off a ramped entrance on the north side.
There are 2 bathrooms – one on each end of the floor.
There is a shower in the bathroom closest the bedrooms with an 85 gallon water heater.
Vanity areas are available in each bedroom.
Many people tend to lounge most of the weekend and aren't showering every day either.
There are 2 additional public restrooms in the main floor lobby area, if needed.
Tables and specialty Koala wheeled crafting chairs along with individual cutting boards for 12 work stations.
Individual station specialty lighting and garbage containers.
2 tables for cutting areas or setting up additional equipment.
3 ironing boards – PLEASE BRING YOUR OWN IRONS.
3 – 4'x8′ felt boards.
30+ outlets for sewing machines, etc.
You will need to bring your own sewing machines, irons, computer, printer, or cricket machines. None of these are provided.
You are responsible for your own food. There is a fully equipped kitchen available. Cy's Bar & Grill on the main floor provides dine-in or take-out options. There are also many other restaurants and a grocery store nearby.
Parking areas are shown on the map below.
Temporarily park at the base of the ramp (Hwy 61 side of the building) to load/unload.
Overnight parking is available anywhere along Pine or 5th Streets.
Overnight parking is also available in the city parking lot ACROSS the street.
Be aware of signed parking restrictions in the Dominoes/501 parking lot.
CMP is not responsible for vehicle towing due to not adhering to by signed parking restrictions.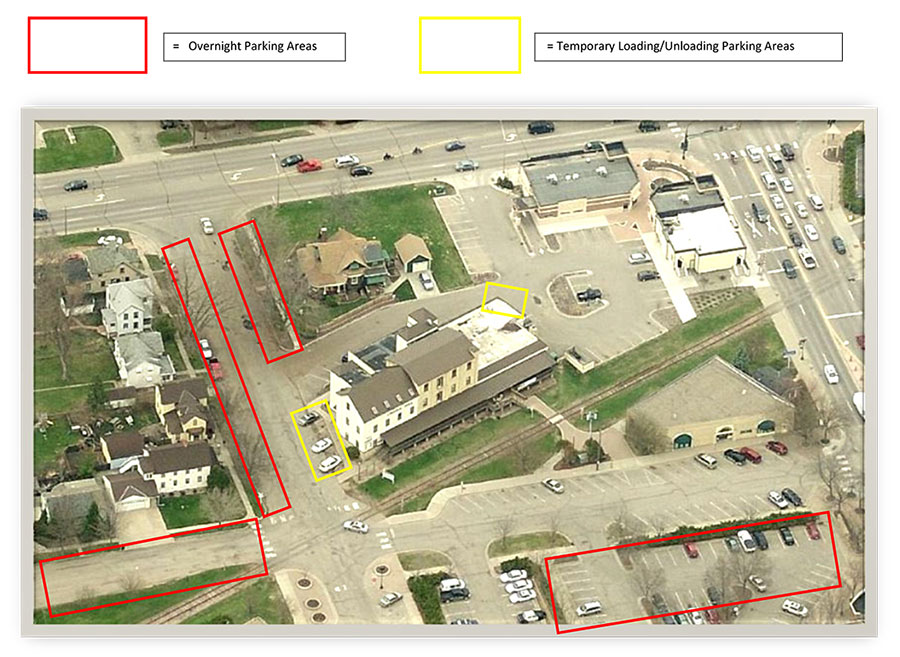 Yes. Wifi is available and the only way to stream movies/TV to your own devices. The Wifi security code is provided upon arrival.
Yes, your comfort is important to us.